---
Samurai-Blades is a website which aims to provide detailed and helpful information on every aspect of Japanese Samurai swords. For ease of use, the site is divided into several sections, which can be reached using the left navigation bar or the links on each page.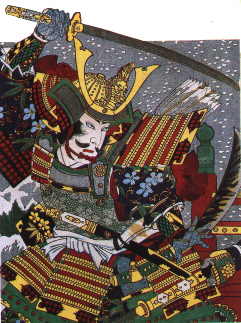 This section gives information about the many types of Japanese Sword, also including descriptions of the wooden practice swords used in modern martial arts.
Unlike a western blade, a Japanese sword is comprised of many separate components, and each part of the sword has it's own name. This section gives detailed descriptions of these parts and how they fit together to form the sword.
What to Look For (Coming Soon!)
This section contains information on what you should be aware of when buying a sword, and how different variations will affect the performance of the weapon if it is used for Iaido or Tameshigiri.
Many people who have an interest in Japanese sword arts are also very keen on the history of the Samurai and martial arts. This section gives information about the Bushido, the strict warrior code that shaped the lives of the Samurai.
Learning to use a Sword (Coming Soon!)
Some people collect samurai swords merely as a hobby, but most who buy them are martial artists who require a weapon with which to practice, or for use in competition. If you are a beginner, this section provides information about several sword-based martial arts, and what you should do if you are interested in starting to train in one.
PLEASE REMEMBER, A SWORD IS A WEAPON, EVEN A BLUNTED EDGE CAN CAUSE SERIOUS WOUNDS IF MISHANDLED. DO NOT ATTEMPT TO WIELD ANY SWORD UNLESS YOU KNOW WHAT YOU ARE DOING, OR ARE UNDER THE SUPERVISION OF A TRAINED INSTRUCTOR.
---
This website is copyright © Chris Dawkins 2003. If you wish to use any of my material on your own website, please contact me. Your request will probably be granted providing that you do not use my work for commercial purposes and give credit where it's due. Unless otherwise noted, all images and literature on this website had been created by me. Please see the legal section for a list of those who have contributed to this website.